J Series – Our BTO system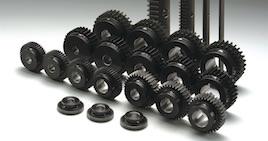 What is the J series which is one of KHK's signature services ?
We will explain below using categories :
Standard products – Standard stock gears as they are stored in the KHK stockroom
Custom-made items – Gears made to order to the customer's specifications
Items with secondary operations – Standard stock gears with customer specified secondary operations
J series – Standard stock gears with KHK specified secondary operations
Above mentioned KHK specified secondary operations are modifications typically requested by users such as,
– Enlarging the bore
– Add a keyway
– Add tapped hole(s)
Even though additional operations on stock gears are needed on large variations of J series products, the delivery is very short and is down to two working days.
This J series service enables us to treat these non-stock items as close to stock gears as possible and it serves as our gear production's BTO (Build To Order) system.