Gears are identified by many types and there are many specific technical words to describe their definition. This section introduces those technical words along with commonly used gears and their features.
1.1 Types of Gears
The most common way to classify gears is by category type and by the orientation of axes.
Gears are classified into 3 categories; parallel axes gears, intersecting axes gears, and nonparallel and nonintersecting axes gears.
Spur gears and helical gears are parallel axes gears. Bevel gears are intersecting axes gears. Screw or crossed helical, worm gear and hypoid gears belong to the third category. Table 1.1 lists the gear types by axes orientation.
Table 1.1 Types of Gears and Their Categories
Categories of Gears
Parallel AxesGears
Types of Gears
Spur Gear
Spur rack
Internal gear
Helical gear
Helical rack
Double helical gear
Efficiency (%)
98.0 – 99.5
Categories of Gears
Intersecting AxesGears
Types of Gears
Straight bevel gear
Spiral bevel gear
Zerol bevel gear
Efficiency (%)
98.0 – 99.0
Categories of Gears
Nonparallel and Nonintersecting
Types of Gears
Screw gear (Efficiency 70.0 – 95.0 %)
Worm gear (Efficiency 30.0 – 90.0 %)
Also, included in table 1.1 is the theoretical efficiency range of various gear types. These figures do not include bearing and lubricant losses.
Since meshing of paired parallel axis gears or intersecting axis gears involves simple rolling movements, they produce relatively minimal slippage and their efficiency is high.
Nonparallel and nonintersecting gears, such as screw gears or worm gears, rotate with relative slippage and by power transmission, which tends to produce friction and makes the efficiency lower when compared to other types of gears.
Efficiency of gears is the value obtained when the gears are installed and working accurately. Particularly for bevel gears, it is assumed that the efficiency will decrease if improperly mounted from off-position on the cone-top.
(1) Parallel Axes Gears
1 Spur Gear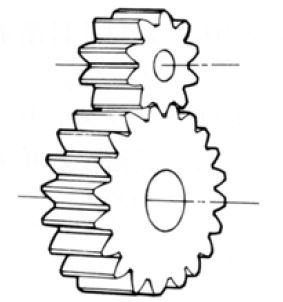 Fig. 1.1 Spur Gear
This is a cylindrical shaped gear, in which the teeth are parallel to the axis. It is the most commonly used gear with a wide range of applications and is the easiest to manufacture.
2 Gear Rack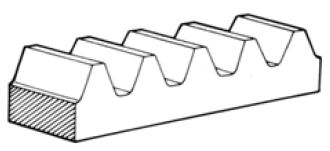 Fig. 1.2 Gear Rack
This is a linear shaped gear which can mesh with a spur gear with any number of teeth. The gear rack is a portion of a spur gear with an infinite radius.
3 Internal Gear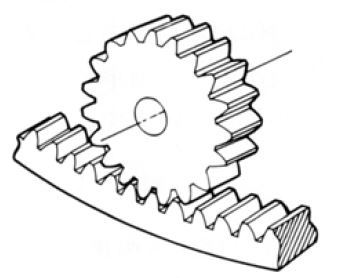 Fig. 1.3 Internal Gear and Spur Gear
This is a cylindrical shaped gear, but with the teeth inside the circular ring. It can mesh with a spur gear. Internal gears are often used in planetary gear systems.
4 Helical Gear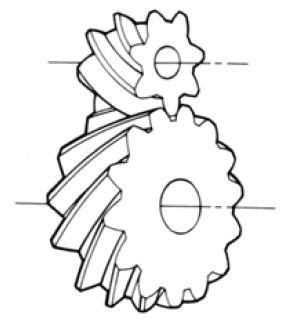 Fig. 1.4 Helical Gear
This is a cylindrical shaped gear with helicoid teeth. Helical gears can bear more load than spur gears, and work more quietly. They are widely used in industry. A disadvantage is the axial thrust force caused by the helix form.
5 Helical Rack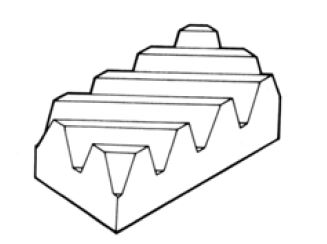 Fig. 1.5 Helical Rack
This is a linear shaped gear that meshes with a helical gear. A Helical Rack can be regarded as a portion of a helical gear with infinite radius.
6 Double Helical Gear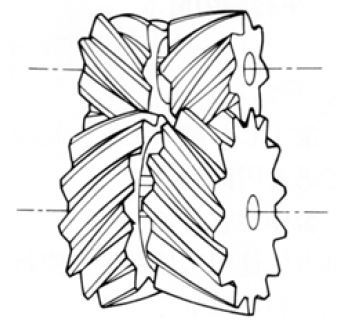 Fig1.6 Double Helical Gear
A gear with both left-hand and right-hand helical teeth. The double helical form balances the inherent thrust forces.
(2) Intersecting Axes
1 Straight Bevel Gear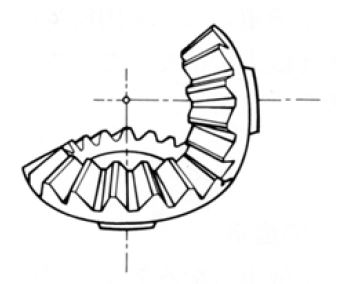 Fig.1.7 Straight Bevel Gear
This is a gear in which the teeth have tapered conical elements that have the same direction as the pitch cone base line (generatrix). The straight bevel gear is both the simplest to produce and the most widely applied in the bevel gear family.
2 Spiral Bevel Gear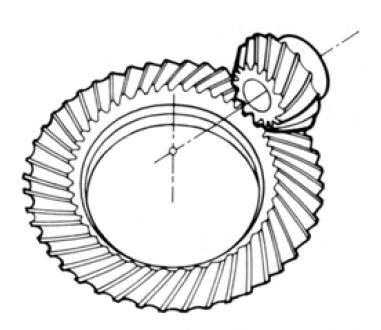 Fig.1.8 Spiral Bevel Gear
This is a bevel gear with a helical angle of spiral teeth. It is much more complex to manufacture, but offers higher strength and less noise.
3 Zerol Bevel Gear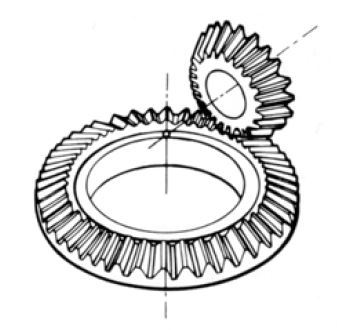 Fig.1.9 Zerol Bevel Gear
This is a special type of spiral bevel gear, where the spiral angle is zero degree. It has the characteristics of both the straight and spiral bevel gears. The forces acting upon the tooth are the same as for a straight bevel gear.
(3) Nonparallel and Nonintersecting Axes Gears
1 Worm Gear Pair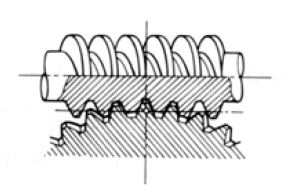 Fig.1.10 Worm Gear pair
Worm gear pair is the name for a meshed worm and worm wheel. An outstanding feature is that it offers a very large gear ratio in a single mesh. It also provides quiet and smooth action. However, transmission efficiency is poor.
2 Screw Gear (Crossed Helical Gear)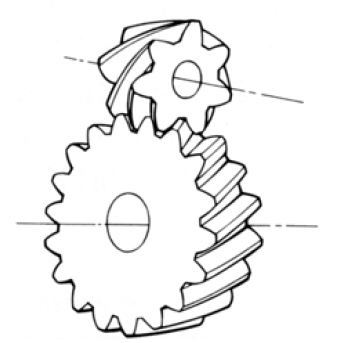 Fig.1.11 Screw Gear
A pair of cylindrical gears used to drive non-parallel and nonintersecting shafts where the teeth of one or both members of the pair are of screw form. Screw gears are used in the combination of screw gear / screw gear, or screw gear / spur gear. Screw gears assure smooth, quiet operation. However, they are not suitable for transmission of high horsepower.
(4) Other Special Gears
1 Face Gear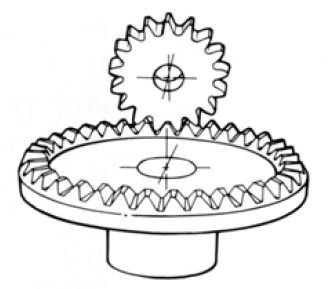 Fig.1.12 Face Gear
A pseudo bevel gear that is limited to 90° intersecting axes. The face gear is a circular disc with a ring of teeth cut in its side face; hence the name Face Gear.
2 Enveloping Gear Pair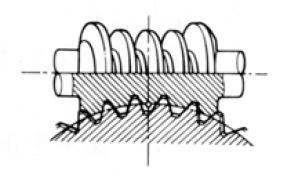 Fig.1.13 Enveloping Gear Pair
This worm set uses a special worm shape that partially envelops the worm gear as viewed in the direction of the worm gear axis. Its big advantage over the standard worm is much higher load capacity. However, the worm gear is very complicated to design and produce.
3 Hypoid Gear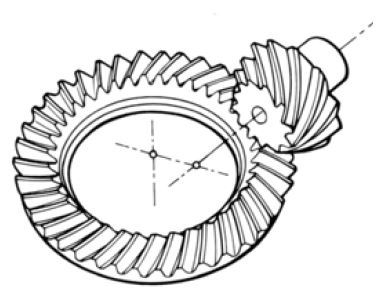 Fig.1.14 Hypoid Gear
This gear is a slight deviation from a bevel gear that originated as a special development for the automobile industry. This permitted the drive to the rear axle to be nonintersecting, and thus allowed the auto body to be lowered. It looks very much like the spiral bevel gear. However, it is complicated to design and is the most difficult to produce on a bevel gear generator.
1.2 Symbols and Terminology
Symbols and technical words used in this catalog are listed in Table 1.2 to Table 1.4. The formerly used JIS B 0121 and JIS B 0102 Standards were revised to JIS B 0121:1999 and JIS B 0102:1999 conforming to the International Standard Organization (ISO) Standard. In accordance with the revision, we have unified the use of words and symbols conforming to the ISO standard.
Table 1.2 Linear and Circular Dimensions
Terms and Symbols
Centre distance
Reference pitch
Transverse pitch
Normal pitch
Axial pitch
Base pitch
Transverse base pitch
Normal base pitch
Tooth depth
Addendum
Dedendum
Chordal height
Constant chord height
Working depth
Tooth thickness
Normal tooth thickness
Transverse tooth thickness
Crest width
Base thickness
Chordal tooth thickness
Constant chord
Span measurement over k teeth
Tooth space
Tip and root clearance
Circumferential backlash
Normal backlash
Radial backlash
Axial backlash (Radial play) NOTE 1
Angular backlash
Facewidth
Effective facewidth
Lead
Length of path of contact
Length of approach path
Length of recess path
Overlap length
Reference diameter
Pitch diameter
Tip diameter
Base diameter
Root diameter
Center reference diameter
Inner tip diameter
Reference radius
Pitch radius
Tip radius
Base radius
Root radius
Radius of curvature of tooth profile
Cone distance
Back cone distance
* NOTE 1.
"Axial backlash" is not a word defined by JIS.
Table 1.3 Angular Dimensions
Terms and Symbols
Reference

pressure angle

Working pressure angle
Cutter pressure angle
Transverse pressure angle
Normal pressure angle
Axial pressure angle
Transverse working pressure angle
Tip pressure angle
Normal working pressure angle
Reference cylinder helix angle
Pitch cylinder helix angle
Mean spiral angle NOTE 2
Tip cylinder helix angle
Base cylinder helix angle
Reference cylinder lead angle
Pitch cylinder lead angle
Tip cylinder lead angle
Base cylinder lead angle
Shaft angle
Reference cone angle
Pitch angle NOTE 3
Tip angle NOTE 4
Root angle NOTE 5
Addendum angle
Dedendum angle
Transverse angle of transmission
Overlap angle
Total angle of transmission
Tooth thickness half angle
Tip tooth thickness half angle
Spacewidth half angle
Angular pitch of crown gear
Involute function (Involute α )
NOTE 2. The spiral angle of spiral bevel gears was defined as the helix angle by JIS B 0102
NOTE 3. This must be Pitch Angle, according to JIS B 0102.
NOTE 4. This must be Tip Angle, according to JIS B 0102.
NOTE 5. This must be Root Angle, according to JIS B 0102.
Table 1.4 Others
Terms and Symbols
Number of teeth
Equivalent number of teeth
Number of threads, or number of teeth in pinion
Gear ratio
Transmission ratio
Module
Transverse module
Normal module
Axial module
Diametral pitch
Transverse contact ratio
Overlap ratio
Total contact ratio
Angular speed
Tangential speed
Rotational speed
Profile shift coefficient
Normal profile shift coefficient
Transverse profile shift coefficient
Center distance modification coefficient
Tangential force (Circumference)
Axial force (Thrust)
Radial force
Pin diameter
Ideal pin diameter
Measurement over rollers (pin)
Pressure angle at pin center
Coefficient of friction
Circular thickness factor
Single pitch deviation
Pitch deviation
Total cumulative pitch deviation
Total profile deviation
Runout
Total helix deviation
A numerical subscript is used to distinguish "pinion" from "gear" (Example z1 and z2), "worm" from "worm wheel", "drive gear" from "driven gear", and so forth. (To find an example, see next page Fig. 2.1).
Table 1.5 indicates the Greek alphabet, the international phonetic alphabet.
Table 1.5 The Greek alphabet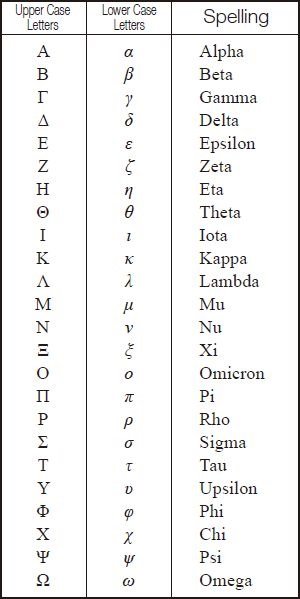 Related links :
Know about rotational directions and numbers of rotation of gears
Gear Types and Characteristics – A page of The ABCS of Gears – B
Basic Gear Terminology and Calculation – A page of The ABCS of Gears – B
Types of Gears – A page of Introduction to Gears
Characteristics of Gears – A page of Introduction to Gears
Gear Terminology – A page of Introduction to Gears
Gear Nomenclature