What is the ideal gear catalog ?
A gear catalog is the principle media used when selecting gears based on specification requirements for machine design. It must list not only information like the measurements, shapes, precision grades such as DIN and AGMA, pitch such as modules and DP, hardness, and whether polished or not, but also items relating to strength such as allowable torque.
Furthermore, gear catalogs are expected to play the role of gear technical reference including not only simple specifications of gears but also examples, how to use them, usage guidelines, etc.
As for the format of gear catalogs, it is desirable that they be presented in a variety of formats such as paper, electronic, and PDF catalogs. In the end, it is important that machine designers and those in charge of machine maintenance be able to search for the gears they require quickly and accurately, and in order to fulfill these needs KHK offers not only a PDF catalog on a separate page but also a gear catalog in the following 2 formats.

Online Catalog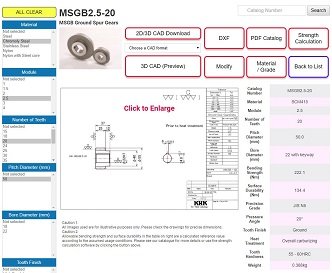 PDF Catalog
Paper Catalog
Click here for a paper version of our latest catalog
This is a printed catalog containing all information on KHK's products as well as company information.
If you would like to request this paper catalog, firstly please go the to the Contact Form page, then send a message to us specifying "catalog request".
A dealer in the country where you are located will get back to you.
Related links :
Types of Gears
Gear Calculator
齿轮产品样本 – 中文页
Catalogo Ingranaggi – Italiano
Spur Gears
Rack and Pinion
Plastic Gears

Click Here to request the documents in PDF format