What is the module of a gear ?
In general, the size of a gear tooth is expressed as its module.
The sizes of gear teeth using the module system are indicated with the symbol m followed by numerals such as m1, m2, and m4 where the teeth sizes get larger as the numerical value increases.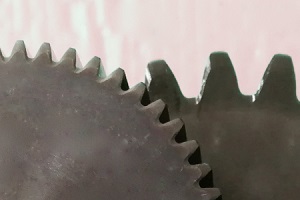 Figure 1 - The comparison of teeth sizes between Module 1.5 (left) and module 4 (right)
In order for the gears to mesh, the space between the gear teeth of each gear, in other words the pitch (p) must be equal.
The pitch of a gear indicates the size of the gear tooth, but because the pitch contains the circular constant π (3.1415…), it is not a convenient number.
Therefore, by dividing the pitch by π, π can be eliminated. The remaining value is named the module and represents the tooth size.
(The unit of module is mm.)
The relationship is shown as the following formula.
m = p / π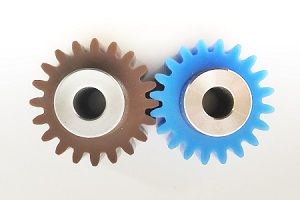 Figure 2 - Two gears of module 2
They mesh together correctly because their modules are equal.
By the way, the pitch circle diameter of a spur gear (d) can be obtained by multiplying the module (m) and the number of teeth (z).
Expressed as a formula, it is d = m x z.
In the ISO system, the unit to indicate the size of gear tooth is specified as module. In reality, there are others such as CP (circular pitch) which expresses pitch in integer and DP (diametral pitch) which is mainly used in the US, etc.
The chart shown in Table 1 compares the equivalent values of module (m), circular pitch (CP) and diametral pitch (DP).
Module
m
Pitch
CP
Diametral Pitch
DP
0.39688
1.24682
64
0.5
1.57080
50.8
0.52917
1.66243
48
0.6
1.88496
42.33333
0.79375
2.49364
32
0.79577
2.5
31.91858
0.8
2.51327
31.75
1
3.14159
25.4
1.05833
3.32485
24
1.25
3.92699
20.32
1.27000
3.98982
20
1.5
4.71239
16.93333
1.59155
5
15.95929
1.58750
4.98728
16
2
6.28319
12.70
2.11667
6.64970
12
2.5
7.85398
10.16
2.54000
7.97965
10
3
9.42478
8.46667
3.17500
9.97456
8
3.18310
10
7.97965
4
12.56637
6.35
4.23333
13.29941
6
4.77465
15
5.31976
5
15.70796
5.08
5.08000
15.95929
5
6
18.84956
4.23333
6.35000
19.94911
4
6.36620
20
3.98982
8
25.13274
3.175
8.46667
26.59882
3
10
31.41593
2.54
Table 1 - Comparison of various pitch measurements